NASA's Kepler mission, which was launched in 2009, has found its first earth sized plants. Several of them could lie in the habitble zone of their stars, meaning in a suitable distance for them to be neither too hot, nor too cold.
Of the 54 new planet candidates found in the habitable zone, five are near Earth-sized. The remaining 49 range from double the size of earth up to larger than Jupiter.
The findings increase the number of planet candidates identified by Kepler to-date to 1,235. Of these, 68 are approximately Earth-size; 288 are super-Earth-size; 662 are Neptune-size; 165 are the size of Jupiter and 19 are larger than Jupiter.
This brings the total nomber of exoplanets found to nearly 1800. Considering that only half a century ago astronomers argued that there may not even be any planets around other stars this number is truly staggering.
In this same release, NASA scientists anounced that they found a planetary system that beares resemblance to our own, only that it seems to be shrunk down. In the planetary system Kepler-11, six planets have been found to orbit, all of them however closer to their star than Venus in our solar system.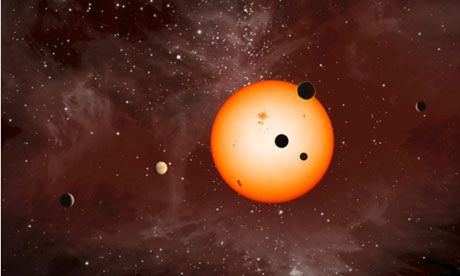 An artist's impression of the Kepler-11 planetary system. (Credit: Photograph: NASA/Ames/JPL-Caltech/T Pyle/Nature Magazine)
Of course all this data has to be verified and double checked by other telescopes and astronomers, however if proven this could well be one of the biggest finds ever.
It may well be that NASA has found an Earth twin in another solar system.
I will write more about exoplanets, and specifically this batch of data from Kepler as soon as more information is found or released on it.